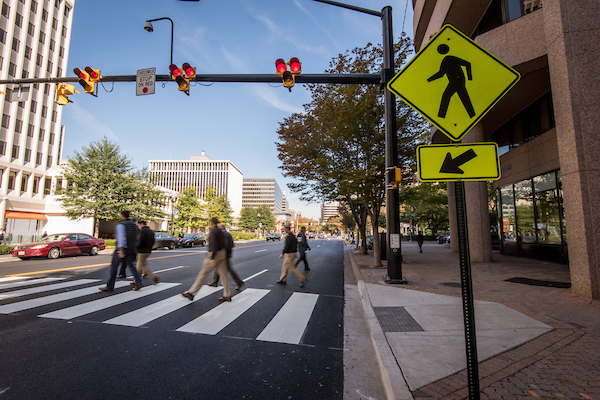 CHAPEL HILL, North Carolina, June 21, 2022—The Walk Friendly Communities program (WFC) recognizes twenty-three cities and towns from across the U.S. for prioritizing pedestrians and creating safe and inviting places to walk. The WFC designation is awarded based on a detailed review of a community's sustained efforts to elevate the needs of pedestrians across all areas of transportation programs. These communities also offer examples of steps that other cities and towns can take to improve walkability and safety.
Included among the designated communities are Arlington County, Virginia, and New York City, New York, with Platinum-level designations for their activities. WFC also issued four Gold-level, four Silver-level, and 13 Bronze-level designations.
WFC is a national recognition program developed to encourage cities and towns across the country to develop and support walking environments with an emphasis on safety, mobility, access, and comfort. Managed by the University of North Carolina Highway Safety Research Center (HSRC), the program distinguishes communities leading the way in walkability and seeks to share their stories to inspire other communities to move toward their own innovative solutions. In the 12 years since the program began, it has recognized 82 cities and towns across 32 States with WFC designations.
"We are impressed by the commitments these communities have made to plan and design their communities around people on foot," said Dan Gelinne, WFC program manager. "We hope these communities can offer inspiration to others as they work to prioritize pedestrian safety and walkability."
Communities recognized by the Walk Friendly Communities program during the current round include:
Platinum:
Arlington County, VA
New York, NY
Gold:
Ann Arbor, MI
Chicago, IL
Corvallis, OR
Minneapolis, MN
Silver:
Alexandria, VA
Cary, NC
Lawrence, KS
Ypsilanti, MI
Bronze:
Durango, CO
Fayetteville, AR
Fergus Falls, MN
Flagstaff, AZ
Gainesville, FL
Mount Lebanon, PA
Northampton, MA
Rochester, MN
Sitka, AK
Stevens Point, WI
Wilsonville, OR
York, PA
The WFC program is the first national program to highlight walkability initiatives and programs. At the core of the WFC program is a comprehensive web-based assessment tool that evaluates community walkability and pedestrian safety related to engineering, education, encouragement, evaluation, and planning. The assessment tool is intended to both evaluate conditions for walking and provide communities with specific feedback and ideas for improving walkability. To learn more about Walk Friendly Communities, visit www.walkfriendly.org.